Detroit Blues Masters Vol.10 - Brother Will Hairston, L.C. Green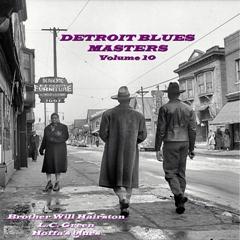 01. My God don't like it I & II

Brother Will Hairston -  vocals
+ band
Detroit, Mi. december 1955

02. The Alabama Bus I & II
03. Mighty wind
04. The Bible is right
05. Seems like a dream

Brother Will Hairston -  vocals
Louis Jackson – piano
Washboard Willie – washboard
Detroit, Mi. 1956

06. Shout school children

Brother Will Hairston -  vocals
The Dixie Aires – vocals
+ band
Detroit, Mi. november 1957

07. The Story of President Kennedy
08. Holy Ghost don't leave me

Brother Will Hairston -  vocals
+ band
Detroit, Mi. november 1964

09. March on to Montgomery

Brother Will Hairston -  vocals
Louis Jackson – piano
Washboard Willie – washboard
Detroit, Mi. 1965

10. This may be the last time

Brother Will Hairston -  vocals
The Greater Love of Tabernacle – vocals
+ band
Detroit, Mi. 1968

11. When the sun is shining
12. When the sun was shining n°2
13. Remember way back
14. Little machine
15. Little schoolgirl
16. Come back sugar mama
17. Hold me in your arms

L.C. Green – vocals, guitar
Walter Mitchell – harmonica, vocals
Gallatin, Tn. 1952

18. Going to the river
19. Going down to the river

L.C. Green – vocals, guitar
Walter Mitchell – harmonica, vocals
Robert Richard – harmonica
Detroit, Mi. 1953

20. Pistol blues
21. Mary Ann blues
22. Hastings street boogie
23. Things is going so tough today
24. Shine my light

L.C. Green – vocals, guitar
Walter Mitchell – harmonica, piano
Detroit, Mi. 1954

25. Hoffa's blues

Anonymous – vocals
+ band
Detroit, Mi. 1966

Let's start this Detroit blues: Volume 10 with the powerful Gospel and protest song shouter and composer Brother Will Hairston, well known for his striking Alabama bus (about the Montgomery racial bus incident) which is the very first song to mention the Reverend Martin Luther King. Thanks to blues writer and researcher Guido Van Rijn, who interviewed Hairston's widow and daughter, we know the life of this great singer. Will Hairston was born on 22nd November 1919 at Brookfield, Ms and went to Detroit in 1945 to work on the Chrysler Plant. But he also preached in his local Baptist Church and recorded (mostly on his own labels, with the exception of one session for Joe Von Battle) 27 extraordinary and passionate topical blues/Gospels, mostly about the struggle of the African-Americans against segregation in the Southern States. We have been able to gather 10 of those titles. If anyone has the very elusive other tracks and would be willing to share, any .mp3 copy would be most welcomed. Brother Will died in his Detroit home on March, 7th 1988.
If the best known records of singer-guitarist L.C. Green (born 23 October 1921 at Minter City, Ms - † 24 August 1985 at Pontiac, Mi) have been often reissued, we have here gathered the complete known recordings of this excellent very down-home bluesman who made all of his musical career in Detroit, most often backed by his cousin Walter Mitchell, a blues singer and harp player himself.
At last we have Hoffa's blues, an odd blues made as a tribute to International Brotherhood of Teamsters'leader (and Mafia member) Jimmy Hoffa. It was recorded in 1966 for the Convention of the Truck Drivers' Union that was based in Miami this very year and pressed only for this event. Hoffa who was very popular among workers (and among African Americans for his stand for equal rights) was banned from AFL-CIO before being send in jail for his Mafia's connections and finally probably murdered by the hired killer Richard Kuklinsky in 1975! Anyway this Hoffa's blues swinging on the John Henry tune is sung by an "anonymous" excellent laid-back R&B singer who is still a mystery. Any more clue?
Thanks to all who contributed to this article: Pierre Monnery and Marc for their generosity in sharing rare tracks; Guido van Rijn for his first rate research about Brother Will Hairston (cf: Blues & Rhyhtm Magazine n° 167), Mr Mightygroove and D.J. Lucien for their expertise on Hoffa's blues. --- Gérard Herzhaft, jukegh.blogspot.com
download (mp3 @320 kbs):
yandex 4shared mega mediafire cloudmailru uplea